Fine Lodging on the Little Buffalo River
Arkansas House
About Us
Rooms, suites, and cabins on the Little Buffalo River
The historic Arkansas House has the Buffalo National River's finest lodging, centrally located on Scenic Highway 7 in downtown Jasper. We are on the banks of the Little Buffalo River, and just a few minutes from the Ozark National Forest, an ideal location for visitors to both parks, where opportunities abound for canoeing, kayaking, wild elk viewing, rock climbing, hiking, mountain biking and cycling, fishing, hunting, bird watching, photography, and horseback riding.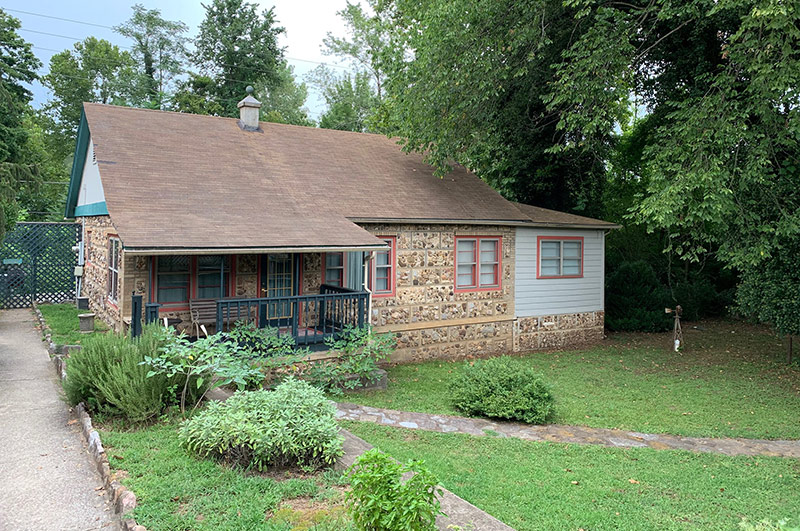 River Cabin
Our River Cabin is a roomy 2 bedroom house with a fully equipped kitchen, and jacuzzi.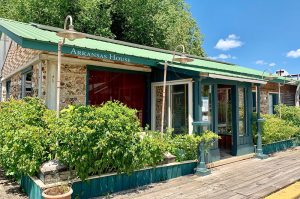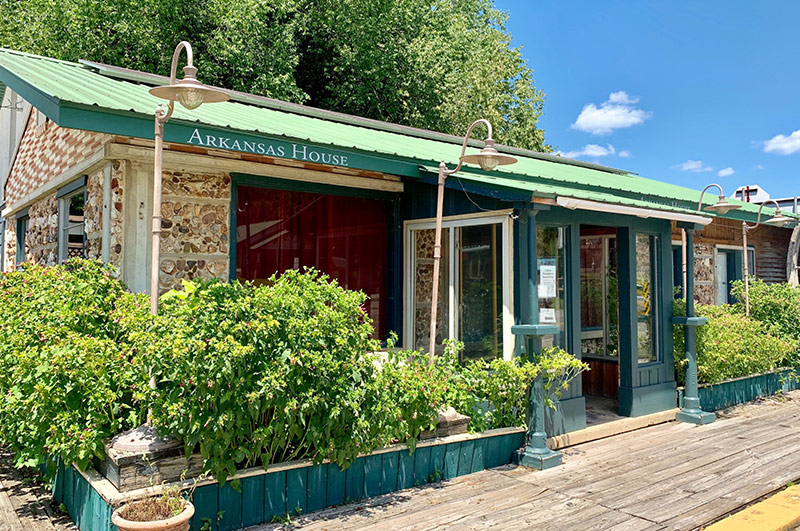 Jasper Creek Cabin
The Jasper Creek Cabin is located at the Arkansas House resort, two blocks from the town square.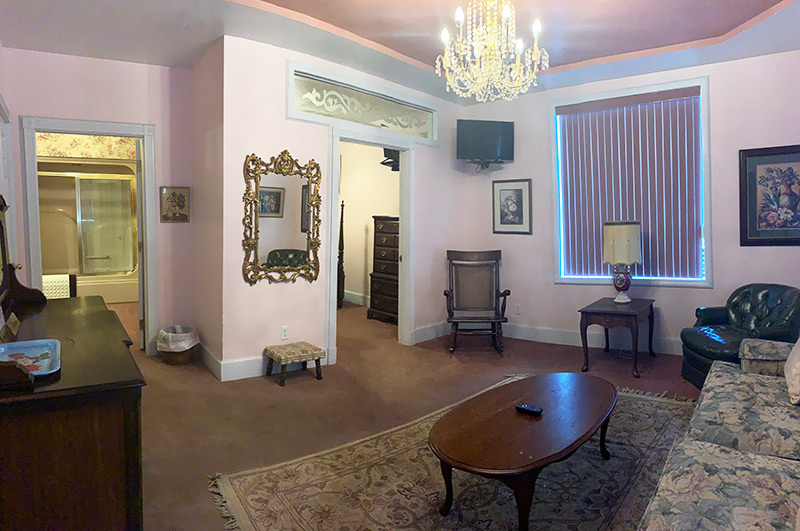 Rose & Garden Suites
Our two luxury suites offer relaxing living room areas, plus a bedroom, a full bath, and jacuzzis.
Kristina's Room
Decorated with our younger guests in mind and situated on the second floor, this charming room has modest antiques.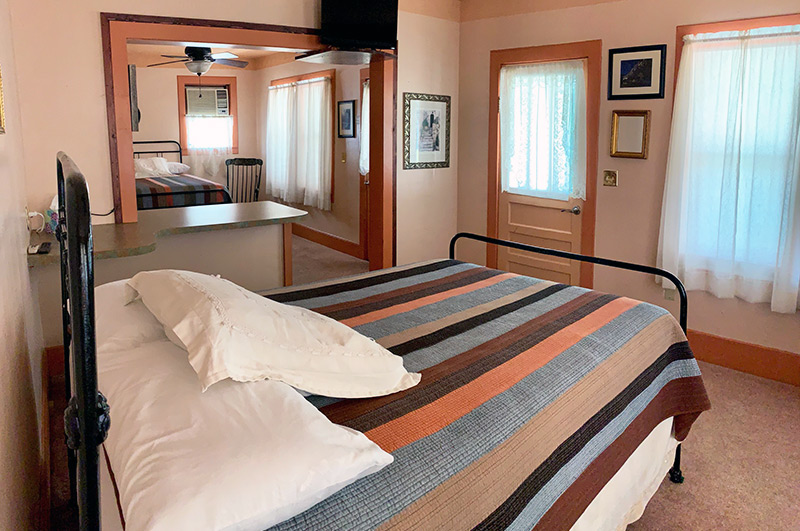 Treetop Room
Perched on the second floor, this suite has a large outside balcony overlooking the Little Buffalo River and our formal garden.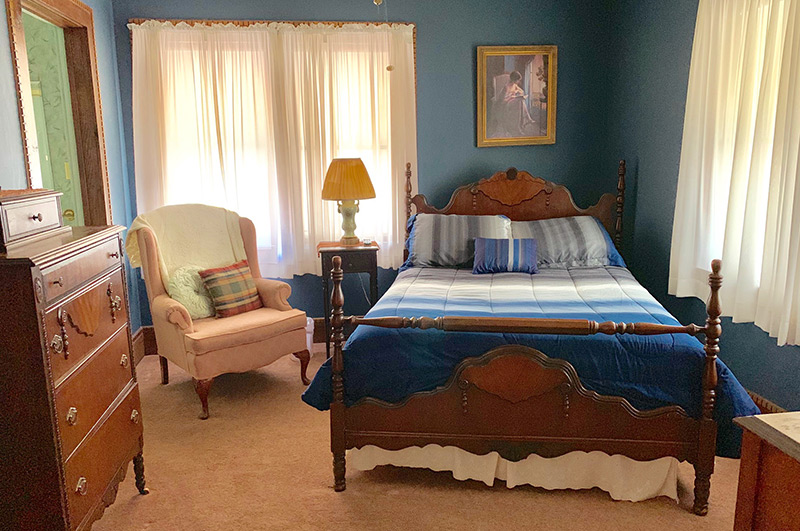 Mother's Room
Decorated in a maternal flair with lovely antiques, this room has a carpeted bedroom and spacious bath with  a tub on the second floor.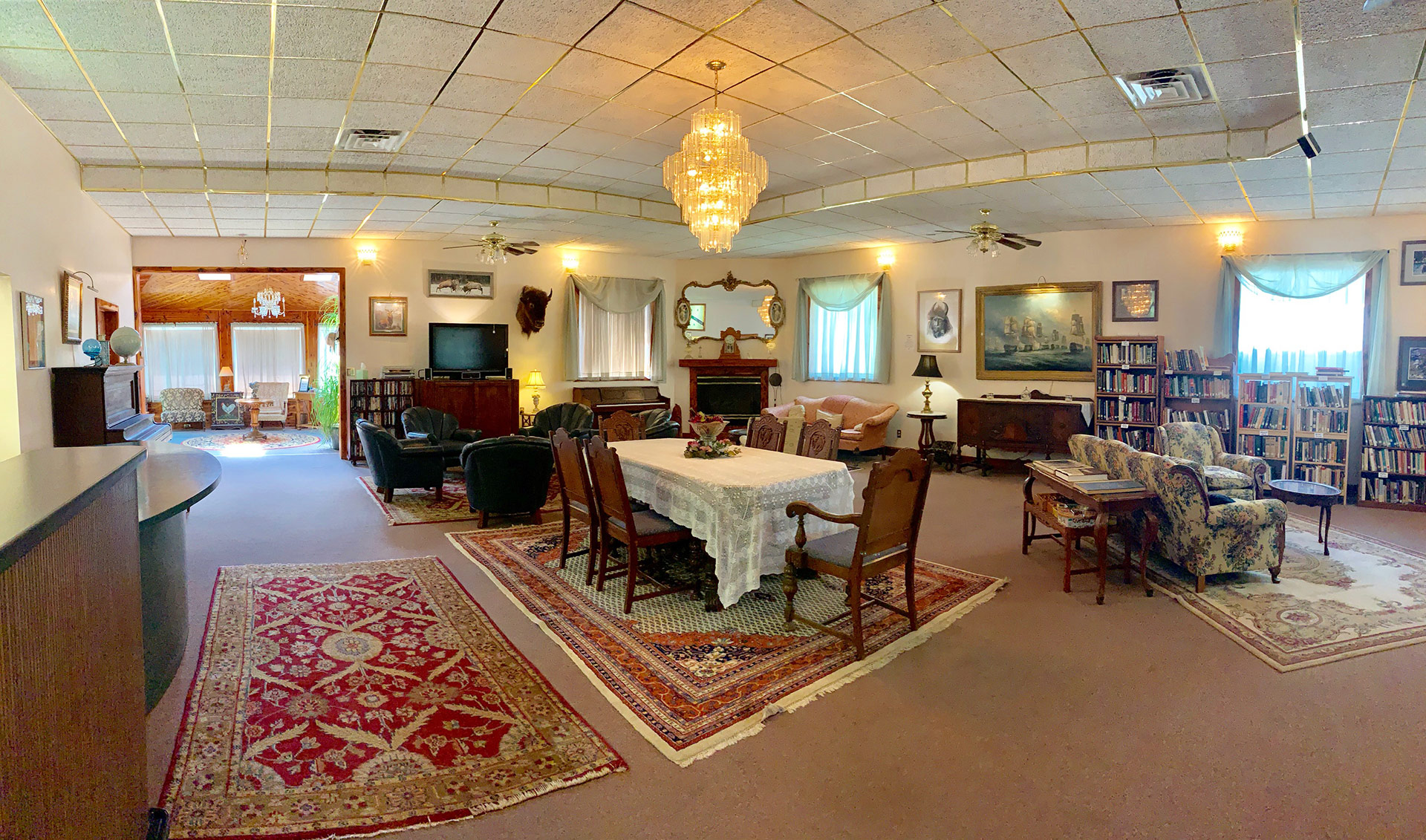 We enjoyed the stay and the stop back in history…. that's something we look for everywhere we go. Thank you again.
…here is a little token lagniappe, a tiny rose hat box for your lovely Rose Suite. We so enjoyed it. The food was excellent, the area beautiful. We felt so welcome. We will be back one of the these days, if the Lord is willing.
I loved the peace and quiet of the room. All of the amenities with a touch of history. Thank you for your hospitality.
After 55 years, I returned to where fond memories are, all the while listening to the meadow lark sing his rendition of Amazing Grace – how sweet the sound. Best wishes and God Peace to you and your guests.
ARKANSAS HOUSE
Amenities, Services, & Travel Guide
The Buffalo National River
The Buffalo River region remains one of the best kept secrets in the US. The centerpiece is the Buffalo National River, a 150 mile wild river, the first designated National River in America. For more information on this national treasure, visit the Buffalo National River Headquarters website.
Wildlife Viewing
From September to December each year elk viewing in Boxley Valley is considered at its peak. During these months, bull elk fight for domination of the herds of cows in Boxley Valley. A popular past-time is to visit Boxley Valley in the evenings to hear the elk bugle and witness the elk up close. People come to the area from many states to view this annual spectacle.
Rare and endangered Trumpeter Swans can be viewed from the road on the Buffalo River between Boxley and Ponca, a 15-minute scenic drive from the Arkansas House.
Mystic Caverns
Mystic Cavern was originally called Mansion Cave because of the large calcite formations that fill the incredible underground chamber. One of the most spectacular calcite formations is the "Pipe Organ". It stands 30 feet tall and 12 feet thick. Mystic Cavern also features some rare calcite formations such as helictites, shields, and spherical stalactites.  Just down highway 7 from Jasper. Visit MysticCaverns.com
Smith Creek Preserve
Smith Creek Preserve is 1,316 acres of Ozark forest in Newton County which is bisected by Smith Creek, a tributary to the Buffalo National River.  The surrounding forest is home to bats, turkeys, deer, black bear and elk.  It is a valuable property because the preserve helps keep the water flowing from Smith Creek into the  Buffalo River clean and is a vital connector between the 1.2 million acre Ozark National Forest and the 95,000 acre Buffalo River National River Wilderness Area.  The preserve is owned and managed by The Nature Conservancy. For more information, visit the Smith Creek Preserve website.
Eureka Springs
This is a popular day trip with patrons of the Arkansas House. This little Victorian town features many art galleries, fine shops, entertainment, and places to eat. Visit EurekaSprings.org
Branson, Missouri
Nationally famous, Branson is a great destination for live shows and concerts. Plenty of things to do for the whole family.  Visit ExploreBranson.com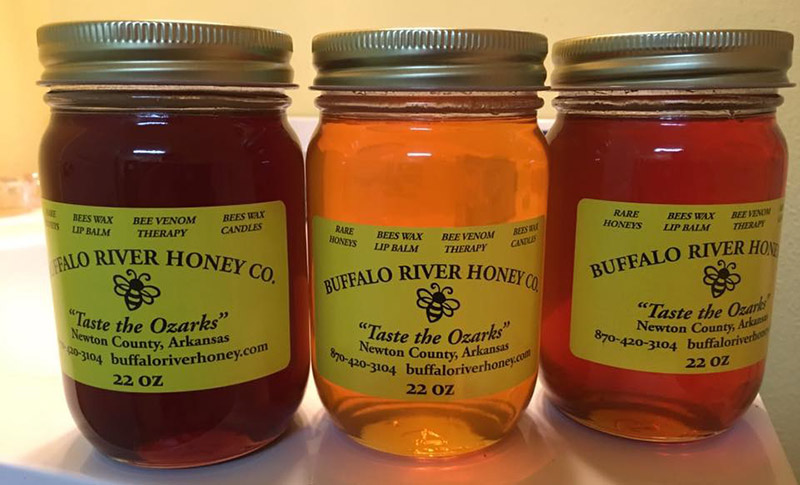 Buffalo River Honey
Looking for a sweet treat? Try our very own Buffalo River Honey! We feature the finest, all-natural wilderness flower honey that money can buy. Our hives are located in the pristine Upper Buffalo River Area that encompasses two wilderness areas and thousands of acres of untouched woodlands. Purchase your own supply at Arkansas House!
Read more at www.buffaloriverhoney.com.
Enjoy the Buffalo River in Style
Reach Out!
Contact us to find out about our vacancies, and book your Buffalo River trip now.
215 East Court Street, Jasper, AR