Arkansas House
Recommended by Southern Living Magazine, Arkansas House (c.1933) is the landmark hotel of the region, and offers two luxury suites, three charming hotel rooms, and two private cabins.
The historic Arkansas House has the Buffalo National River's finest lodging, centrally located on Scenic Highway 7 in downtown Jasper. We are on the banks of the Little Buffalo River, and just a few minutes from the Ozark National Forest, an ideal location for visitors to both parks, where opportunities abound for canoeing, kayaking, wild elk viewing, rock climbing, hiking, mountain biking and cycling, fishing, hunting, bird watching, photography, and horseback riding. 
Now Under New Management
We have a library with rare books that can not only be enjoyed while you're here, but can also be purchased. An additional feature along our boardwalk is a Salon. Appointments are available at the salon in advance, and walk-ins are welcome as schedule will allow.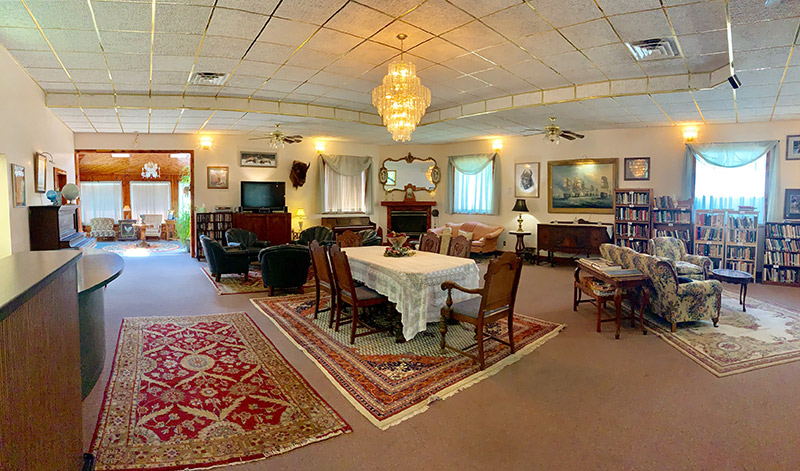 The Great Room
Our guests really enjoy the great room for reading, relaxing, watching TV, and even playing the piano.
We have a large library of books, available for reading or for purchase, and comfortable seating for gathering with friends and family to relax. Sit in comfort while you watch cable, The Movie Channel, and HBO
The Grounds
Arkansas House was created to be a soulful retreat of fine simplicity. The warm embrace of our hospitality is waiting for you every moment. Let us help you reconnect and revel in life's natural pleasures. The interior and exterior spaces are designed to embody tranquility.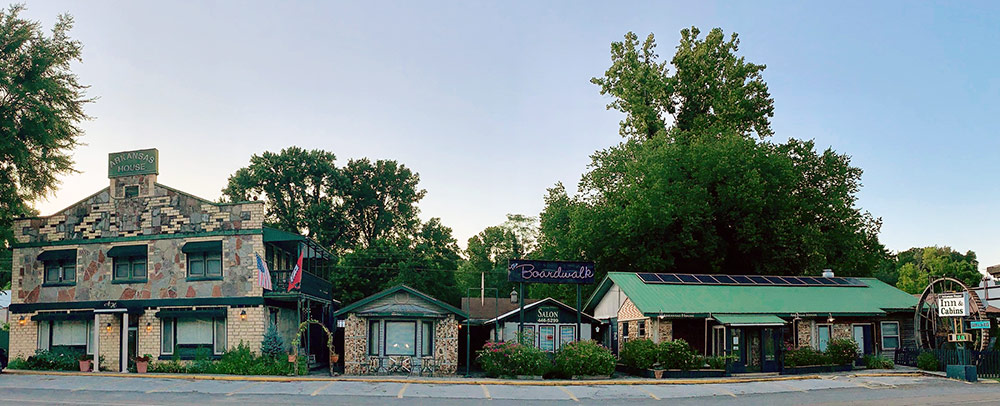 The Buffalo National River
The Buffalo River region remains one of the best kept secrets in the US. The centerpiece is the Buffalo National River, a 150 mile wild river, the first designated National River in America. For more information on this national treasure, visit the Buffalo National River Headquarters website.
Wildlife Viewing
From September to December each year elk viewing in Boxley Valley is considered at its peak. During these months, bull elk fight for domination of the herds of cows in Boxley Valley. A popular past-time is to visit Boxley Valley in the evenings to hear the elk bugle and witness the elk up close. People come to the area from many states to view this annual spectacle.
Rare and endangered Trumpeter Swans can be viewed from the road on the Buffalo River between Boxley and Ponca, a 15-minute scenic drive from the Arkansas House.
Mystic Caverns
Mystic Cavern was originally called Mansion Cave because of the large calcite formations that fill the incredible underground chamber. One of the most spectacular calcite formations is the "Pipe Organ". It stands 30 feet tall and 12 feet thick. Mystic Cavern also features some rare calcite formations such as helictites, shields, and spherical stalactites.  Just down highway 7 from Jasper. Visit MysticCaverns.com
Smith Creek Preserve
Smith Creek Preserve is 1,316 acres of Ozark forest in Newton County which is bisected by Smith Creek, a tributary to the Buffalo National River.  The surrounding forest is home to bats, turkeys, deer, black bear and elk.  It is a valuable property because the preserve helps keep the water flowing from Smith Creek into the  Buffalo River clean and is a vital connector between the 1.2 million acre Ozark National Forest and the 95,000 acre Buffalo River National River Wilderness Area.  The preserve is owned and managed by The Nature Conservancy. For more information, visit the Smith Creek Preserve website.
Rio Buffalo Outfitter
Established in 2020, Rio Buffalo Outfitter's staff enjoys helping folks discover the wonders of the Buffalo National River as well as the spectacular Ozark Mountains and streams surrounding the river. We do this by providing quality canoes, kayaks and rafts as well as shuttle services for not only paddling adventures but for hiking and mountain biking. Visit their website for more info!
Wilderness Rider Buffalo Ranch
Wilderness Rider Buffalo Ranch and Adventure Park offers over 3000 acres of spectacular dirt and dual sport riding in a pristine natural area, one of a kind waterfall, specialty campsites, and so much more. Adjoins the Buffalo National River Park and the Sweden Creek Natural Area. Visit wildernessrider.com for more information!
Eureka Springs
This is a popular day trip with patrons of the Arkansas House. This little Victorian town features many art galleries, fine shops, entertainment, and places to eat. Visit EurekaSprings.org
Branson, Missouri
Nationally famous, Branson is a great destination for live shows and concerts. Plenty of things to do for the whole family.  Visit ExploreBranson.com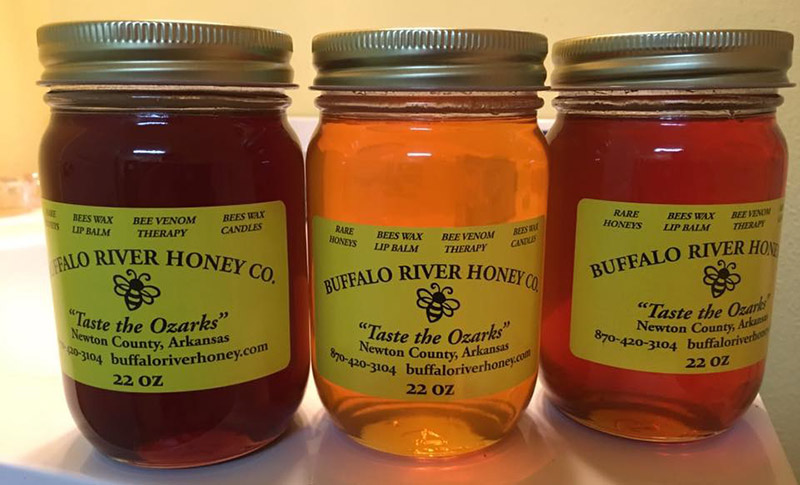 Buffalo River Honey
Looking for a sweet treat? Try our very own Buffalo River Honey! We feature the finest, all-natural wilderness flower honey that money can buy. Our hives are located in the pristine Upper Buffalo River Area that encompasses two wilderness areas and thousands of acres of untouched woodlands. Purchase your own supply at Arkansas House!
Read more at www.buffaloriverhoney.com.
Amenities
All Rooms Include…
Payment & Secured Reservations
A non-refundable deposit of 50% is required to secure your reservation. Full payment is required 48 hours prior to your arrival. Upon booking your reservation, we require a valid credit card to hold the reservation and for deposit payment. We accept all major credit cards. Reservations made less than 48 hours prior to your arrival, require payment in full at time of reservation. 
Cancellation Policy
Due to our remoteness, cancellations affect us greatly. If cancellation is made at least 48 hours prior to reservation date, the deposit will be applied to a future reservation to be scheduled within 12 months of original reservation date. There is a $25 fee for rescheduling. If cancellation is made less than 48 hours of arrival date, full payment is due. However, if we are able to rent your reservation, we will cheerfully refund your payment. 
Smoking
All of our rooms are smoke-free for the comfort of our guests. Smokers, please enjoy the gardens and decks within the complex, but refrain from smoking within 25 feet of any entrance to the buildings. If there is evidence of smoking in the rooms, you will be charged a $50 sanitation fee. 
Damage Policy
Please remember, the rooms are for future guests as well. If damage or loss occurs to something in your room, let us know before you check out, otherwise the cost to replace or repair items will be automatically billed to your credit card.
Have a Question?
Reach Out!